A WATER CONSERVATION SOLUTION WITH SMARTPHONE CONNECTIVITY
PROBLEM
How Do We Make People Care About Conserving The 50%-80% Of Household Greywater?
The Water leech is a defunct Australian water/reuse system intended for suburban usage outside of the home. To reintroduce this device, our team initially tackled the design flaws. The size of the water reservoir dominated the look of the device and restrained how it could be used. Rethinking how it connects to a water source in a convenient way was also critical. We recognized that creating a new type of product category instead remaining within water irrigation could leap over competitors by intelligently adding logical technological conveniences.
CONCEPT
Water Conservation For The Part-Time Environmentalist
Our target audience is between ages 23-35 years old, single and are urban dwellers. They don't completely have their lives in order, love to buy new gadgets & appliances, and consider home decor very important. The target also prioritizes perception over reality and values appearing environmentally- responsible. To make the highest impact possible, a product roll-out included several major metro areas like New York City, Los Angeles, San Francisco and Miami. Stores selected included Target, Home Depot, and Whole Foods.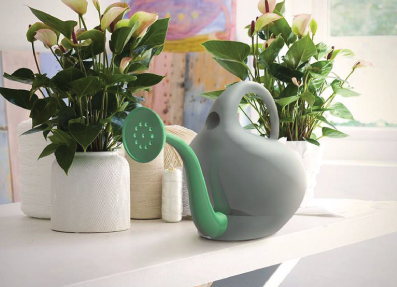 USER EXPERIENCE
Easily Conserve Water By simplifying the PROCESS
The Tembo was designed so that reusing greywater to take care of and monitor your plants can be easily integrated into your life. A detachable hose sucks up water from your shower or sink into the Tembo's reservoir. The spout is then attached to the front of the Tembo for watering use. The design draws inspiration from an elephant (Tembo means elephant in swahili) and is also meant to compliment your kitchen space when not in use. The design of the website was intended to reflect the ease of use of the device with the main goal of informing the user about how to use the Tembo. The Tembo Sensors notify you when your plants need water via a mobile app.

PROCESS
USER EXPERIENCE DOCUMENtATION